Coastal Schooner, the work horse of our coastal trade. She is probably not much more than a hundred tons, and carries everything from timber and coal to bricks, general cargo, and a load of hay to offshore island communities. Our schooner is shown with only a main topmast, but many also carry a fore topmast. Note the yawl boat towing astern.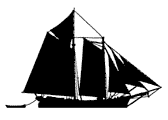 Ketch A two masted sailing vessel where the mizzen mast is ahead of the rudder. The rig is similar to a schooner but the main mast (the tallest mast) is the first mast, not the second mast. Ketches are common in Europe but rare in Nova Scotia.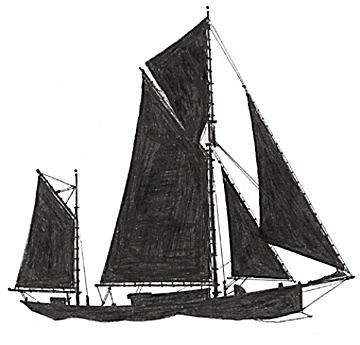 Four Masted Schooner shown at anchor. This design attempts to reduce individual sail area, raise tonnage, and still manage with a small crew. She could operate with eight hands, and reached 500 to 700 tons.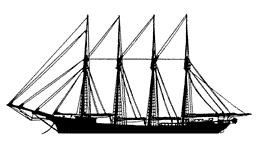 Tern Schooner a three master built in great numbers all along our shores. These vessels are cargo carriers of between 200 and 400 tons, requiring a crew of six to eight. Our Tern is shown with all sails set except staysails between the masts.