This is a formal invitation for one and all, to join the citizens of Heathfield, Ballicastle, Tyremoor, Kildare and Innis Daingneach for the celebration of the Winter Solstice.

A formal ball will be held and a banquet for all to enjoy. The champagne will flow freely from a fountain along with various other beverages to be enjoyed. Waiters will be circulating with trays of the various drinks. This is an event of peace and happiness in reverence of the season to be shared with friends and loved ones alike. An orchestra will be playing music all evening. Please join in the dancing. A secret judge will be watching for that special couple that stands out amongst the rest to receive a prize.
First Place for Dancing --Sleigh and two horses, blanket and a winter picnic basket.
| | |
| --- | --- |
| | |
| Second Place for Dancing -- Crystal & gold 'singing' tree. A breeze will bring the music. | Third Place for Dancing -- Winter picnic basket. |
A Christmas Tree stands decorated off to the one side of the room. Candy canes, gingerbread cookies of various Christmas cuts hang from the branches for all to partake of. Small baskets are beneath made up of various cheeses, breads, cookies, chocolates and a bottle of wine. There is one for each guest to take.

There will be sleighs made readily available for those who may wish to enjoy a ride along the countryside for a little bit of romance. We look forward to one and all and wish you a merry time.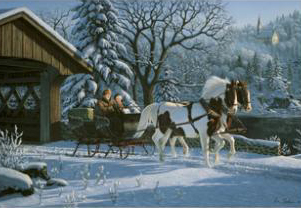 Date: 19th day of December
Time: 9:00 P.M (E.S.T.)
Place: Heathfield Castle Grand Ballroom

Heathfield Grand Ballroom
(AIM room)

Menu: Turkey, Pork Roast, Beef Roast, Rack of Lamb, Goose, Quail, Salmon. Potatoes, Wild Rice, Glazed Carrots, Pea Pods, Green Beans.

Deserts: Pies, Cakes, Danish, Cookies, Muffins, Sweet Breads, Biscuits.

Beverages: Champaine, Poteen, Blackberry Brandy, Peach Brandy, Wine, Spiced Rum, Mulled Wine, Hot Cider, Teas, Hot Cocoa.

Snowflake Shuffle
Everyone who attends this night gets to pick a snowflake from a special snowflake tree upon arriving. Jessamine Saxton will be handing them out when you present her with the number concealed inside the snowflake picked, the center opens up. Each number corresponds to a certain gift. (1d30 will be used)
| | | | |
| --- | --- | --- | --- |
| 1 | Box of mistletoe | 16 | Set of leather gloves |
| 2 | Irish heather woolen scarf and cap | 17 | Box of candy canes |
| 3 | A set of crystal candle holders with candles | 18 | Miniature ceramic Christmas village |
| 4 | Ten pounds of hickory smoked beef with crackers | 19 | Crystal goblets etched with snowflakes |
| 5 | Date with Aiden Collins (if female) or Kizzie Cohen (if male) or significant other in a carriage | 20 | Date with Lancely Caster (if female) or Jessamine Saxton (if male) or significant other in a carriage |
| 6 | Five pounds of white fruitcake soaked in rum | 21 | A Traugott cuckoo clock |
| 7 | Stocking full of assorted candy | 22 | Set of Toboggans |
| 8 | Pair of snow shoes | 23 | A handmade elegant porcelain tree top Angel |
| 9 | Ten inch finely carved Nutcracker and a bag of nuts. | 24 | Pair of racer's ice skates |
| 10 | A one horse open sleigh and horse | 25 | Festive wreath door decoration |
| 11 | Set of skis | 26 | Box of Turlough cheesecake filled chocolates |
| 12 | An edible large gingerbread house | 27 | A pair of tooled leather boots |
| 13 | Box of assorted holiday cookies | 28 | Box of fancy hand blown glass ornaments |
| 14 | A case of potcheen along with a ten pound box of Turlough assorted chocolate truffles | 28 | Box of scented candles - holly, berry, peppermint, vanilla, raspberry and lavender |
| 15 | Stocking full of assorted cookies | 30 | Fur lined full length leather cloak |

Snow Sculpture Contest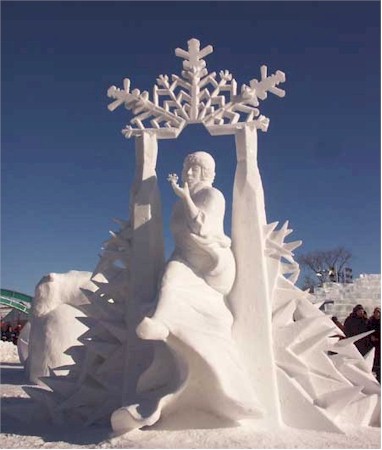 Snow Sculptures will be constructed in the garden of Heathfield Castle or brought in by wagon to be displayed. All participants are to create their original designs on the Sunday before the Dinner and Ball.
First Prize -- 100 Gold coins and a Toboggan
Second Prize -- 100 Silver coins and Husky pulled Sled with Husky
Third Prize -- 50 silver coins and a Flyer Sled
(All those who wish to participate are asked to send in a detail description of their creation to Lahoneee, SarahIMcDonough and QueenVictoria KD, three judges who will not enter under any of their characters to be fair, by Midnight of Monday, December 18th.)