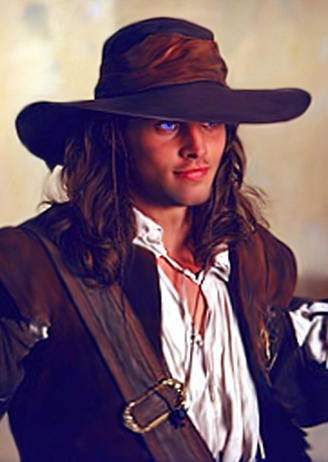 Son of Maurice and Shay Delany McDonough <deceased>. Now nineteen years old and his sister, Sarah Irene, seventeen. They both reside at his father's Cattle Ranch on Heathfield lands. He looks much like his father did at his age. Ice blue eyes held the intensity of youth and that determination to make his own mark in life.

Russet color hair that mostly curled was either tied back or contained beneath his wide brim hat. Skilled for his age with weapons, he still had a lot to learn. He was good with animals, especially horses, but he lacked social skills around women in his earlier teen years. Rory had been shy, easy to blush in a kind that started from his neck up exposing those elusive freckles of younger years to stand out. At 6' 7" he was still growing, more on the lanky side at first until hard work developed well toned muscles in filling him out as a man. He usually wore an off-white cotton shirt tucked into buckskin britches, chaps at times, and a leather jacket along with that wide-brim hat. Once he started getting out more so did his shyness gradually disappeared with a developing confidence.
He had the inherited touch of the rogue to his grin, unaware, but Rory was not really the rogue nor flirt. He liked meeting others and making friends. His best friend was his pal Al and that is a unique story in itself. Al had been hired to help him breed, raise and break in the wild horses. The duo did almost everything together.

His love of horses came first, a gift inherited more through his mother. Rory had a natural way with them. Second was hunting and fishing, he was more at home in the forest as another would be sitting in front of their hearth. He had his favorite fishing hole that was result of a beaver dam, many were the hours and days spent there especially in the summer.