Venessa Ann MacShire
The private showroom was comfortable, a fire burning in the hearth and the low crackle of the flames as background noise. The wind outside barely heard for the solid structure of the building he owned. "Oui, ils sont exquis mon petit Venessa." The flow of a French accent purred by her ear as Etienne hovered very close over her left shoulder as if trying to see what she saw, although he already had seen, through the jeweler's eyepiece. He preferred using her given name than the nickname he was well aware of.
Velvet was intent on studying the intricate facets of the collection of diamonds, rubies and emeralds under the jeweler's eyeglass. That was until her concentration was broken for the words near her ear. Far too close and up personal, sending a shiver through the whole of her body. Not an unwelcome touch but this was Etienne Laurent, the most wanted and smooth talking Frenchman in all of Paris. The eyeglass was set aside as she leaned back enough in the opposite direction with the turn of her head towards him so there was no chance of their lips meeting.
"Are there flaws you wish to distract me from seeing, Etienne?" The mirth in vivid blue eyes would not be missed as they so contrasted against the darkness of her hair when they met and held his gray ones. He was a very handsome man, strikingly so. He had the power of words that she had witnessed, literally, having women swoon. Couple all that with the fact he was one of the richest men in all of Parrie, a son of a Duke and had made his own wealth on top of that. Precious and semi precious stones. The very reason they had met up, buying and selling. She was surprised he wasn't married yet.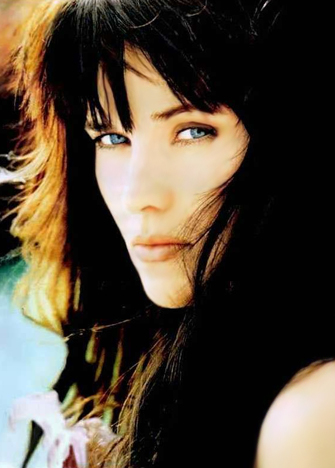 He was surprised she wasn't married yet. Although she was not French, she was beautiful. Her could overlook the nationality in her case. "Non, le c'est votre beauté et les piste de votre parfumer that draws me to be close to you." The flow of words easily intermingling the two languages. He met those blue eyes and held. Perhaps a trace of seriousness flickered there along with his smile. "There are no flaws as I would not lead you astray." He could be as comfortable speaking English as he was his own language. The accent he considered a plus. He stalled there like some kind of stalemate drinking in the blue of her eyes before he finally straightened. "Then, do we have a deal? J'ai proposition mon le meilleur prix." A hand coming to rest along the tailored cut of his dress jacket. One that was a rich wine hue in crushed velvet. Stylish with tails over a silver gray vest and white ruffled shirt. Pants of a creamy tan heavyweight muslin, dress shoes beneath, finished the ensemble.