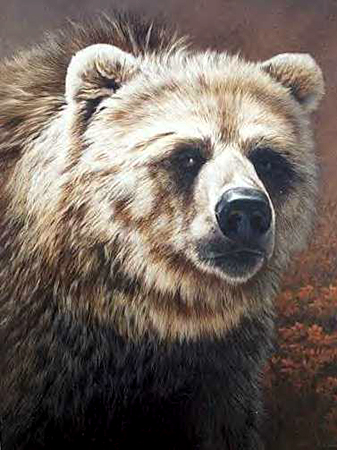 The Legend Trevellyn, Malcolm and Thomas Douglas had come one night to speak to Wind in the Trees. They drank a special tea that would have them understand her as well as she of them. The marked skins were soon placed before her as she began to read the markings so carefully tooled so long ago. There was a slight tremble to her fingers as they held those ancient skins, marked to tell of the Legend of her People. Here were missing parts even for her but now on these skins it was all made clear. What had been old was young again for all to see. Her voice reflected this loveliness of youth. A maiden in her prime now stood there deciphering the ancient symbols, as clear as English was to them.
"Countless time ago my People were." Fingers trailing lovingly over the words but tears did form within those dark eyes. "The chief of the Bear tribe, Black Wolf, wished his daughter to mate the adept Shaman of the Great White Spirit Bear, medicine man of our tribe. His powers were great through the Great Spirit and His White Spirit Bear he sent to him. His name was Eagle Eye, for the sight he had was beyond that which most could only dream. The tribe of pale face had come here to our lands and we shared with them, for all lands are the Great Spirit's and we, His children, are to live together. Eagle Eye's heart was taken by a woman of this tribe, of pale skin beauty, hair of golden spun and blue eyes of the sky. This caused unrest amongst our People for the fury of our Chief that Eagle Eye would not honor his request to mate his daughter. Eagle Eye believed in the heart and his heart was not for the Chief's daughter but this other. In tradition on the sacred hill, Eagle Eye and the one called Laurel Douglas, took their vows beneath the stars of the Great Spirit to bind them eternally.
This could not be broken even by the Chief of our People. When Black Wolf found out Eagle Eye mated the pale face woman on his own so none could stop them, it fueled his fury more. In this fury all reasoning was consumed. He gathered the medicine women of our tribe together, six in all, to dance a curse around Eagle Eye, whom they tied to a Great Oak tree. Laurel was made to watch. She cried the tears for her mate but our People would cry the tears of the Great Waters afterwards. They could not kill a Shaman nor the one he was mated to, for they would be cursed for all eternity as a whole, even Black Wolf would not dare this. This dance cursed him and his seed that none begotten of him would inherit his abilities of the Great White Spirit Bear.