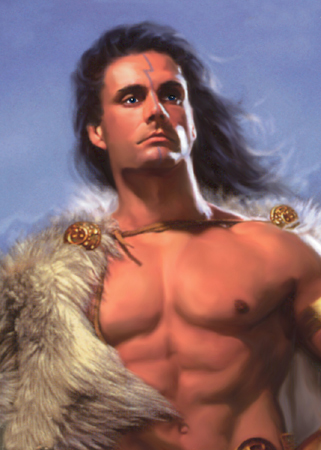 MADouglas
"To desire is to want, to want is to need,
to neither want nor desire leaves a happier man."
He was born the eldest of the Douglas clan of Alexander "Trevellyn" Douglas, Duke of Ashford and Tara Carne Douglas. Tara had been killed in a carriage accident while fleeing the castle with her three youngest children when the battle between Heathfield and Ballicastle raged under the rule of Rath. The Douglas clan, of Tyremoor Castle, being close friends and allies of the McAndrews fought valiantly by their side along with their own people. He was a fierce warrior saving the hides of a few of the McAndrews brothers, that were old enough to fight, as they did them. It was how it worked so they lived to see another day. He became known as MAD Douglas, the Blue Warrior for the painted blue lightning streak down his face coupled with the frenzy look in his eyes when he charged into battle like hell on fire.
Once Heathfield regained it's rightful throne, the battle immediately ceased. Numerous causalities were left, mostly on their side but the two major families were left mostly alive. One brother, Sean, had been killed as he sacrificed his life in order to save his father. After these dark years had passed, time was spent in renovating their keep, for it had suffered major destruction. Being the oldest, his father sent him off to Europe to study for he knew that Mal would one day rule their clan, being his heir. Many years had passed since the war and after he came back from being abroad his father called a conference to strengthen their ties with the McAndrews once more.
Danielle had already been sent ahead to Ballicastle, for Trevellyn had hoped her being around other ladies would wear off on a daughter who grew up more as a tom boy. The next to be sent was Mal himself, for his father feared his head strong daughter would either get her neck broken for her antics or cause a rift between the families. He was also overly protective of her and the brothers were often put in charge of watching her.
After the death of Tara, Trevellyn had a tendency to spoil Danielle even if he didn't know how to relate to this impetuous girl, now turned woman. On the other hand, her brothers teased to nearly torturing her as did the McAndrews lads, it kept a balance. Near on her heels Mal was to follow as he packed most of his things feeling it was going to be a long haul. He really didn't mind for he had always liked Ballicastle, not unlike their own keep, and the McAndrews were like brothers for not actually being related. Eventually Nick then Thomas and even Keifer followed to take up residence in Ballicastle. Quintan remained at Tyremoor with a sickly wife, Patricia. The one responsible for their mother's death was tracked down, leaving a path of traitors dead in their wake as he was sought out and eventually killed. The McAndrews and friends fought by their sides in this personal battle that brought about a long overdue justice.
There was a personal strife between Mal and his father that had gone on for years and that was his father harping on him to marry and produce him an heir. It seemed this was all important to him than whether Mal had feelings or not for the one he married. For many years he would get on his case every so often but it was never really pushed like it was finally that nearly had their family splitting apart. The Duke actually went out interviewing woman in taverns all over the lands for a suitable wife for his son. He had always had the troublesome experience of unwanted attention in that area but this brought it to a head making his situation even worse as even marriage was proposed to him by a stranger. His brothers witness this and had their own blood boiling to the point they drugged Mal and sent him away on Keifer's ship. The strife only escalated but eventually was brought around with many factors involved that worked together and the requirement to marry lifted.