Thistle Tavern Rules, Menu and Layout
Located in Heathfield Commons
The Heathfield Gazette papers along with the Heathfield Bulletin are available within the tavern as well a Map of the lands: The Gazettes are in stacks at the left end of the bar. The Bulletin and Map are hanging on the main tap room side of the service hall wall facing the front of the tavern. Map and News links are above.
Alex Flaherty, Matthew Myers and Hazel MacKay are played characters. They are NOT to be npc'd in a way they are 'played' by anyone else. Their players have established personalities for them and will not appreciate anyone else playing them to suit their play. If they are not in the room they can be assumed as follows:
Alex: Serves those at the bar drinks/food. Giving out any keys for rooms. Mail for those of the lands. Opens and Closes the Tavern. NPC wise he will not engage in conversations with others unless the player of Alex gave certain ones permission - even here it is done in a limited way. Alex is cordial but stoic. He is not prone to be emotional or become someone's father figure, brother or close friend. To gain that would be when the player plays him. You give your request for drink/food and he sees that you get it. There is no cost in this Tavern.
Hazel: Does the cooking. Maintains a menu. She has three Kitchen Maids: Rosie, Flora and Nola (Rooms on main floor). No one gets to see any of them unless Hazel is played and brought out into the tavern area. The player npc's the kitchen maids or player of Alex.
Coleen: Gets drinks and food from the bar and serving window to bring over to those at the tables. She keeps the tables and area clean. On occasion she may ask Matthew's help on some matters. (presently npc)
Matthew: Takes care of anything needing fixing, chopping wood and maintaining the fire in the hearth. He is not npc'd if not played. Player of Alex, Hazel and Maggie may refer to him in their play as taking care of some maintenance.
Chambermaids: Take care of the rooms and any needs guest have such as extra blankets, a hot bath poured, helping ones to get settled in. If a bath, a tub is brought to the room and filled, they do not stay. They take care of the linen and keeping the upstairs spotless. Head Chambermaid is Deloris. Chambermaids are Suzette and Marie (Rooms on Second Floor). There are young lads to help carry any heavy baggage for a coin: Tommy 13, Johnny 12 and Joey 11. Chambermaids and lads are to be npc'd as needed but not abused. Their personalities are friendly and helpful but they do not flirt nor anything sexual.
NO ONE visiting (especially) or even a guest staying in the Thistle should have need to enter the Kitchen. This is Hazel's domain and would not be allowed unless the Queen, Alex, or her family to see her. Not even citizens of the lands are allowed there without permission. Maggie and Matthew do not enter the kitchen unless asked in by Hazel when played (by her player). The Staff are the only ones allowed to take their meals in the kitchen, they can also take them in the main tap room, the back lounge or their rooms. Breakfast for the public is served in the Main Tap Room, one table set up with the food banquet style. The other meals are served individually as requested to be taken in the Main Tap Room.
NO ONE goes behind the Bar except Alex unless the Queen or ones he has given permission.
MENU
BREAKFAST:
Eggs as requested * Sweet rolls * Cottage fries * Biscuits with sausage gravy * Bacon * Steak and eggs * Sausage * Corned Beef and Hash * Apple, Grape and Orange Juices * Boxty Potatoes * Irish Breakfast * Dublin Coddle
DESSERTS:
Desserts Everyday: Crumble Pies: Gooseberry, Rhubarb, Apple, Blueberry, and Cherry. Irish Coffee as well as Cakes, Scones, Ttea Cakes and cookies.
DINNERS:
Irish Stew along with Brown or Soda Bread is offered all the time as it is what the Thistle is noted for making.
Daily Menu is offered on a rotating Two Week Schedule: starting the first week of the month as Week One, second: Week Two, third: week One, fourth: Week Two
Week ONE:
June 5-11, 19-25, July 3-9, 17-23, 31-Aug 6, 14-20, 28-Sept 3, 11-17, 25-Oct 1, 9-15, 23-29
Monday
Tuesday
Wednesday
Thursday
Friday
Saturday
Sunday
*Beef and Barley Soup
*Chicken Cutlets
*Beef Steak with Fried Potatoes
*Parsley potatoes
*Chicken & Leek Pie
*Potato-ham soup
*Baked ham
with mashed potatoes/gravy
*Venison Pie
*Chicken & Dumplings
*Pea soup with ham
*Stuffed Capon
*Fritters of Herbs
*Pork Cutlets
*Colcannon
*Herbed Dumplings
*Chicken and wild rice soup
*Hodge Podge
*Stewed Duck and Turnips
*Stout braised Lamb Shanks
*Clam Chowder
*Seafood Stew
*Smoked Haddock
*Roast Turkey & stuffing
*Welsh Rarebit
*Bacon & Cabbage soup
*Ham - potatoes and green beans
*Shepherd's Pie
*Glazed corn beef
*Lobster Bisque
*Roast Beef
*Roast Duck
*Mashed potatoes, gravy and noodles
Week TWO:
June 12-18, 26-July 2, 10-16, 24-30, Aug 7-13, 21-27, Sept 4-10, 18-24, Oct 2-8, 16-22, 30-Nov 5
Monday
Tuesday
Wednesday
Thursday
Friday
Saturday
Sunday
*Mullagatawny Soup
*Turkey meat pie
*Sliced beef in gravy
*Irish potato farls
*Colcannon Bake
*Vegetable soup
*Corned beef and cabbage
*Colcannon served with sausages or steak
* Chicken & Dumplings
*Chicken Vegetable soup
*Steak and Kidney Pie
*Chicken Cutlets
*Stout braised Lamb Shanks
*Fried potatoes
*Broccoli Soup
*Steak and Guinness Pie
*Ragout of Fowl
*Glazed corn beef
*Wild Rice
*Buttered Peas
*Oyster Stew
Brill
*Baked Mackerel
*Seafood Platter
*Boiled potatoes
*Cream of Potato Soup
*Roast Venison
*Roasted honey-cured turkey
*Beef Rolls
*Baked potato
*Mortar Soup
*Irish Roast Pork with stuffing
*Poached Salmon
*Parsley potatoes
Colcannon: Irish casserole containing , cream, onions, leeks, cheese, cabbage * Hodge Podge: mutton with peas, onions and lettuces
Mortar Soup: made with chicken and pork

MAIN FLOOR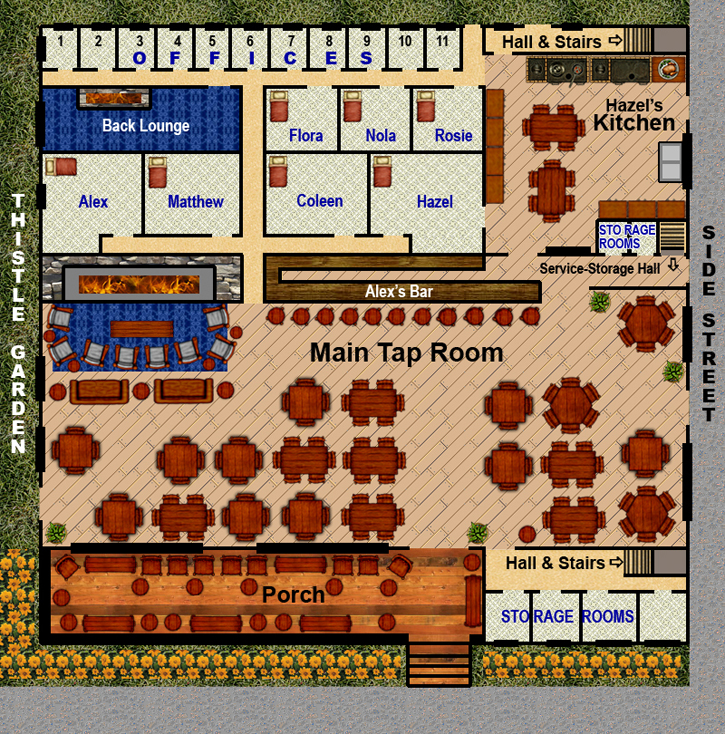 SECOND FLOOR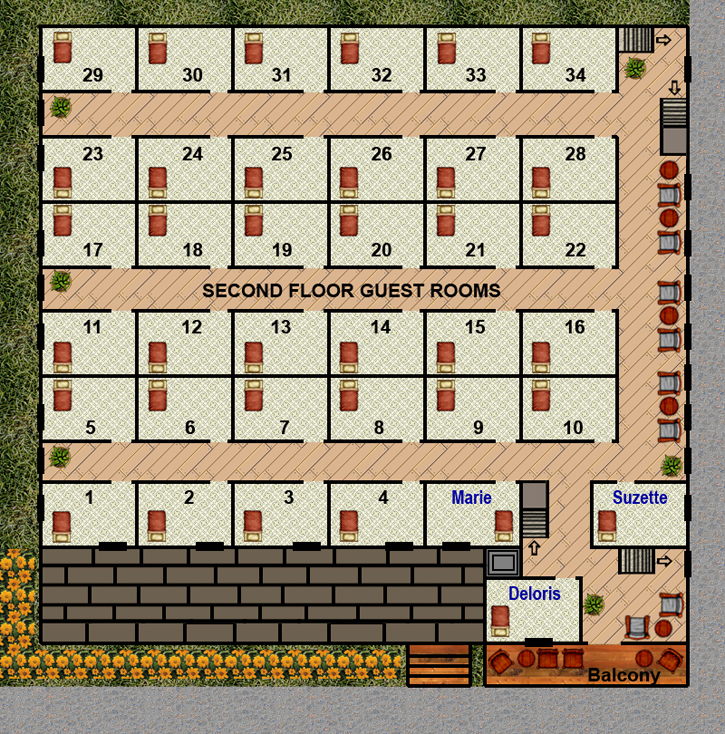 THIRD FLOOR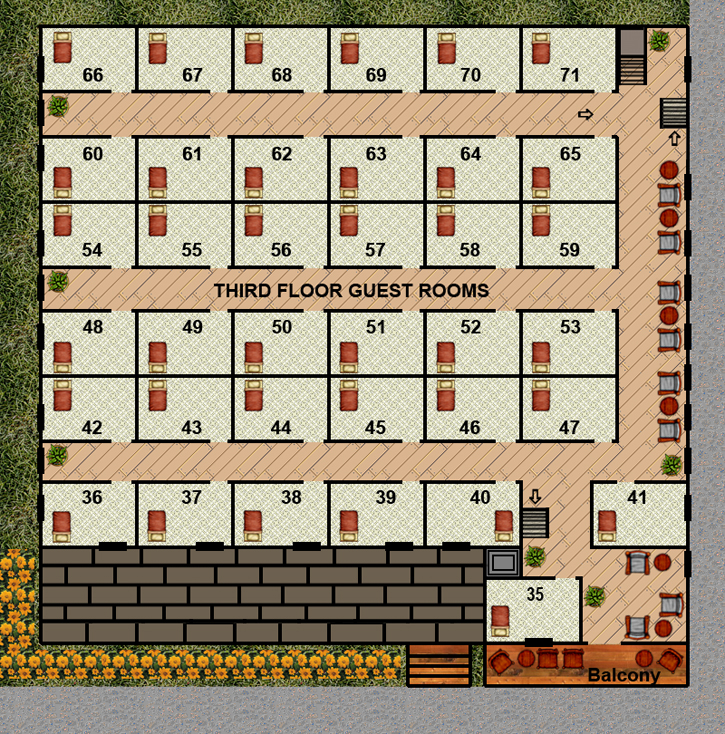 ATTIC